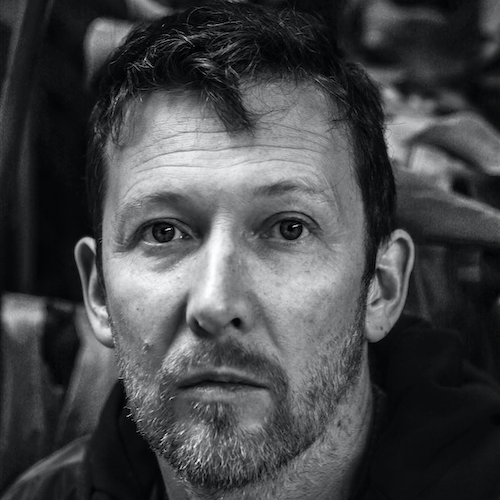 Aleksandar Bezinovic practice moves in a range of styles, from gestural abstraction, symbolism and figurative to geometric abstraction and minimalism.
The geometric paintings with dominant black curving forms, hold a key place within the development of the recent artist's body of work. In his paintings he strikes  a balance between control and improvisation with influences that range widely from the history of geometric modernism to calligraphy and typographic design.
Conceptually his work is centralized over the exploration of a single form plotted in the base of each motif – the Circle. Proportions and composition are determined by placing the circles inside the co-ordinate system (cross). By connecting the circles with controlled brush movement they develop in forms that become a base for intuitive constructive and deconstructive process. Their surfaces are often raw and layered , thus creating tonal shifts and textures that reveal the process of their own making.
In a more recent series of "Superficial cuts" and "Mimesis" , Bezinovic builds up complexly layered surfaces by using palette knives, dry pigments and airbrush. The basic elements of composition drawing are gradually carved into these textures by screwdriver or other tools.
Life
Aleksandar Bezinovic was born on 16 May 1975 in Split, Croatia. In 1993, he completed the Secondary School for Applied Arts and Design, specializing in graphic design. He obtained his BA in painting at the Zagreb Academy of Fine Arts in 1998.
In the period 1998–2006, he worked at the Croatian Conservation Institute in Zagreb as an associate on Wooden polychrome sculpture department. From 2007 he works as a freelance scenic artist/painter in theatre and in film industry.
  He started exhibiting his work in 1997 and from then he continuously works in his studio and exhibits in Croatia and abroad.
Aleksandar Bezinovic is a member of Croatian Association of Freelance Artists and he lives and works in Zagreb and Velika Gorica.
Selected Exhibitions oder Awards
2015 Zagreb, Institut Français, "Moon and steel" (selection)
2015 Dubrovnik, Umjetnicka galerija (Dulcic Masle Pulitika), "Moon and steel"
2014 Zagreb, Gallery Greta, "Sun dogs"
2014 Dubai, Sake-no-hana club
2013 Zeulenroda, Germany, Bauerfeind Bio See hotel, "Anima"